Ready to ship jewelry
Earrings
Asha® Diamond Simulant
Takara Cultured
Diamonds
Natural Diamonds
Cultured Colombian
Emeralds
Cultured Rubies
Rings
Prongs
Necklace & Pendants

Care Products

Weekly Special

Amara™ Shell Pearls
Necklace
Earrings

Retail Stores




Questions?
Please contact us via email



Home > Cultured Colombian Emeralds
Cultured Colombian Emeralds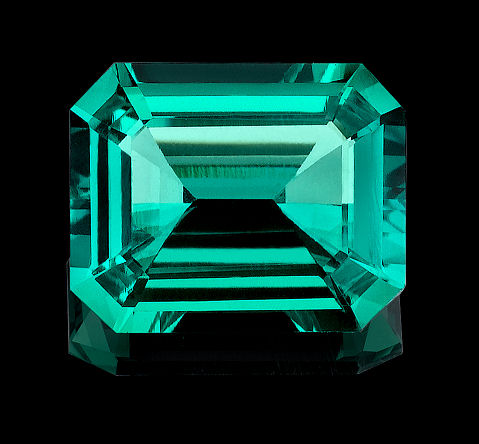 Our Cultured Colombian Emerald
---

"I bought an emerald from you, 1.2 carats. It arrived, beautiful.

I took it to a jeweler that I've dealt with for about 15 years and told them I wanted a custom ring made with this emerald (bezel setting). The only thing I told the jeweler was that I purchased the emerald online.

I picked up the ring...and it is just what I wanted. The jeweler provided an appraisal for the new ring. He valued the replacement value at $4,000.00. This is a quote from the GIA
gemologist:

"One bezel set emerald modified step cut natural emerald,...approximate weight of 1.42ct., clarity is eye clean, type III, medium light, moderately strong, green color, (GIA G 4/4), cut is good."

Needless to say, I am thrilled with my purchase."
- Customer Testimonial

---

Top quality mined emeralds can easily top the value of natural diamonds. And within the world of emeralds, Colombian emeralds are usually valued the highest due to their intense color with just a hint of blue. Mined Colombian emeralds will typically sell for 10%-20% higher premium than emeralds from other countries.

We are thus pleased to announce, that after 7 years of research by the Russian professor Dimitry Fursenko, lab-grown Colombian Emeralds are now a reality and we are pleased to offer them to our customers.


Customer supplied photo of our cultured emerald
(thanks to Grisgby72 on our message boards)

Our cultured (lab-grown) Colombian emeralds are unique in several respects:

These are *real* emeralds, not imitation (i.e. not green colored CZ)...they are simply grown in the lab instead of mined.


Further blurring the line between mined and lab-grown, these emeralds are hydrothermally grown, using low-grade natural emeralds as their nutrient source. Re-crystallization is a good term to describe what takes place, as small emeralds are crushed and then re-grown around a new seed in the lab into large single crystals.


While mined emeralds are known for their high inclusion rate (GIA grades them as Type III gems, meaning they are almost always included), we offer only gem quality (loupe-clean) cultured Colombian emeralds. Further, unlike mined emeralds, our cultured Colombian emeralds are not 'oiled', a default process done to most mined emeralds to hide their inclusions whereby palm oil is applied under pressure to temporarily fill voids and defects.

The result is that our Cultured Colombian Emeralds let you enjoy the beauty and splendor of real emerald in sizes, clarity and color saturation that would otherwise be unaffordable (A large, deep green emerald with minor blue coloration that is relatively free of inclusions may cost up to tens of thousands of dollars per carat).

Our Cultured Colombian Emeralds are priced at $145/ct.
---
Online Shopping:

A note about color - these emeralds are a very rich, velvety green with a hint of blue - the blue tint is very subtle, and in our experience varies based on the type of lighting.
Emerald cuts shown below are in-stock, and ship within 2 business days of receiving your order.
Custom cuts and sizes are available by special order on our new website (still under construction) here - Custom Cut cultured Emeralds Order page.
Free 2 day UPS shipping for US orders (orders over $299)
Satisfaction guaranteed or a full refund will be issued (see our satisfaction guarantee here).

Important note: With emeralds you get a much bigger jewel for the same carat weight as other major gems...
therefore, we recommend selecting your emerald based on size (mm measurement) rather than carat weight.

We have also included the diamond equivalent size (mm translation) since most customers are used to diamond sizing.
It is important to remember that carat is a measure of weight, not size, and thus varies based on what the material is.

Update - We have had a number of custom cut orders (i.e. you specify the type of cut and mm size), and these may now be ordered on our new (in progress) website here - Custom Cut cultured Emeralds Order page.
Cut Shape
Size
Clarity
Approximate
Carat
Weight
(literal on the scale weight)

Diamond
Equivalent
Size
(if this was a diamond...)

Packaging
Web Direct Price
($145/ct)
Emerald
7x5mm
Gem quality
(loupe-clean)
.89 ct
1.05 ct
Diamond Paper
$129
Emerald
8x6mm
Gem quality
(loupe-clean)
1.30 ct
1.50 ct
Diamond Paper
$189
Emerald
9x7mm
Gem quality
(loupe-clean)
2.04 ct
2.50 ct
Diamond Paper
$295
Emerald
10x8mm
AAA quality
(single inclusion)
2.80 ct
3.90 ct
Diamond Paper
$406
Emerald
11x9mm
Gem quality
(loupe-clean)
3.70 ct
5.25 ct
Diamond Paper
$536
Cushion
7x7mm
Gem quality
(loupe-clean)
1.25 ct
2.00 ct
Diamond Paper
$181
Custom
Cut
Gem quality
(loupe-clean)
Diamond Paper
$50 deposit

Custom Cut cultured Emeralds Order page