Home > Loose Asha Index > Round Simulated Diamonds
Asha® Hearts & Arrows Round

*Please note: Additional photos, online inventory, and customer reviews are available on our new, in-progress website:
Click here to view
.
You may order from either site while we continue to build up the new one.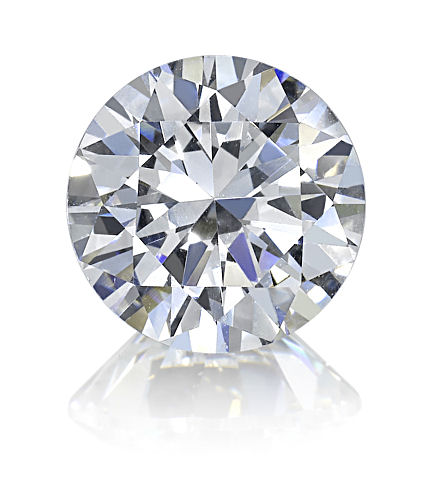 Studio Photo: Version 5 - 2.75ct Asha H&A Round Brilliant
---
"I just wanted to let you know that we recently purchased a 1.5 carat Asha round Version 5 and took it to the LA Jewelry Mart to find a setting.
Three certified gemologists did not know it was a simulant, and even when I told one of them he wanted me to prove it!"
- Customer Testimonial

---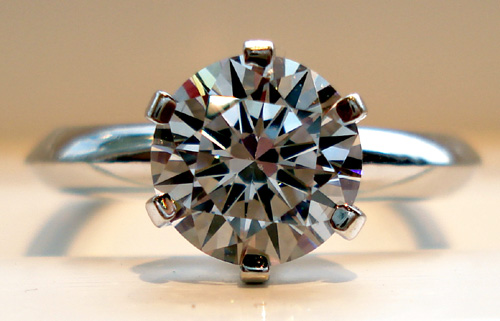 Customer photo showing the 'Arrows' in our Hearts & Arrows Asha round
Less than 2% of all natural diamonds are cut to this precision
The ring is our Tiffany reproduction ring. Photo by Cricketgrrl
---
Asha® H&A Beauty objectively measured and compared:
Asha® H&A 1.00ct sample results (E color), using Gemex Brilliancescope system.

*Typical American Round Brilliant cut diamond (normally cut to maximize finished weight vs. optimal beauty)
The above photos and scales are copyright Gemex Systems
To learn more about the BrillianceScope test result of our Asha® H&A
Round regarding brilliance, sparkle and fire, click here.

If you cannot decide which carat size you'd like to purchase, you may
find the Asha® stone size comparison page helpful.
Asha® Round Highlights:

Precision:
Precisely cut to H&A symmetry for optimal light return,
something less than 1% of all natural diamonds will achieve.

Free UPS Shipping (US domestic orders)
Asha® orders over $300 ship via UPS 2 Day at
no charge to you.


Asha H&A showing its arrows under the H&A scope
You will be pleased or a full refund will be promptly issued:
See our 40 day, any reason satisfaction guarantee here - you must be thrilled with your
purchase, or we will gladly issue you a refund.
Lower pricing! In order to answer our customers #1 request of lowering the
price of Asha without sacrificing quality, (and in opposite of Moissanite's recent price hike)
we have introduced an additional 25% price reduction due to manufacturing
efficiencies gained by our increased volume of rounds, and by our
no longer offering the lifetime limited warranty.
Customers who purchased before May 24, 2005 are still covered by the original Asha lifetime warranty.
Purchases from 5/24/05 and forward still have the 14 day return policy with no lifetime warranty (but lower purchase price).
Learn more about Hearts and Arrows (H&A) cuts - Heart and Arrows, Ideal cut and standard round brilliant all have the same
number of facets (57) - however, the difference lies in the angles, proportions, and symmetry of the facets.
These difference result in widely differing brilliance (light return), with H&A offering the best light return in exchange
for significantly more weight lost during cutting, and substantially more cutting time due to the precision required. Learn more here.
---
Asha® Hearts & Arrows Rounds: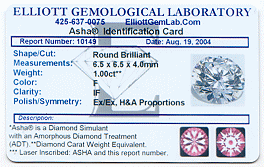 Sample grading report
(not included with purchase, shown as example only)
Wondering what size would work best for you? Here are two links that can help in that decision:
News: Volume sales of our 4mm (.25ct) have exploded. As a result, we are sold out until December. However, due to the increase in volume, we have achieved significant economies of scale savings and will be passing those along with the restock. Pricing for 4mm will be $36 (previously $48) per stone with the next restock.
Version 6 Asha (US Patent Pending) is now available for most sizes. We now only produce version 6.
Details on the new version are here.
H&A round cuts
Color
Cut
Diameter (Depth)
Carat
Size
Packaging
Web Direct Price
(approx 50% off)

F

H&A

4.0mm (2.5mm)

.25 ct
(version 6)
Diamond Paper

F

H&A

5.0mm (3.0mm)

.50 ct
(version 6)
Diamond Paper

F

H&A

6.0mm (3.5mm)
.75 ct
(version 6)
Diamond Paper

F

H&A

6.5mm (4.0mm)
1.00 ct
(version 6)
Diamond Paper

F/G

H&A

7.0mm (4.25mm)
1.25 ct
(version 6)
Diamond Paper

F/G

H&A

7.5mm (4.5mm)
1.50 ct
(version 6)
Diamond Paper
was $670
now:
$315

H Color

H&A

7.5mm (4.5mm)
1.50 ct
(version 6)
Diamond Paper
was $670
now:
$315

F/G

H&A

8mm (5.0mm)
2.00 ct
(version 6)
Diamond Paper

H Color

H&A

8mm (5.0mm)
2.00 ct
(version 6)
Diamond Paper

F

H&A

8.5mm (5.3mm)
2.50 ct
(version 6)
Diamond Paper

F/G

H&A

9mm (5.5mm)
3.00 ct
(version 6)
Diamond Paper

H Color

H&A

9mm (5.5mm)
3.00 ct
(version 6)
Diamond Paper

F

H&A

9.75m (6mm)
3.50 ct
(version 6)
Diamond Paper

now:
$495

F

H&A

11mm (6.5mm)
5.00 ct
(version 6)
Diamond Paper
was $1480
now:
$695
---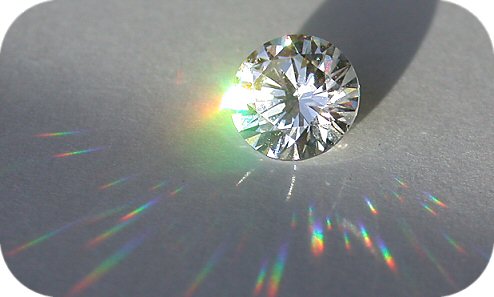 Asha, F color H&A, in the sunlight
---