Ready to ship jewelry
Earrings
Asha® Diamond Simulant
Takara Cultured
Diamonds
Natural Diamonds
Cultured Colombian
Emeralds
Cultured Rubies
Rings
Prongs
Necklace & Pendants

Care Products

Weekly Special

Amara™ Shell Pearls
Necklace
Earrings

Retail Stores




Questions?
Please contact us via email



Home > Ring Index > Cartier 1922 Reproduction Ring
Cartier 1922 Reproduction
Engagement Ring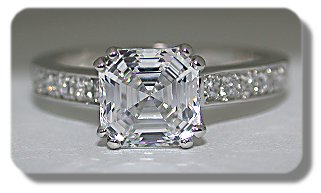 One of our best selling rings - Cartier 1922 Reproduction Ring...

With the immense popularity of the Asscher cut, we have reproduced a stunning ring to help house our Asscher Asha®'s - a reproduction of an original 1922 Cartier ring, along with a matched wedding band.

"Yesterday we received the Cartier reproduction ring. I think it is very beautiful: dainty and elegant, yet very substantial. The balance between the shank, the prongs and the stones is excellent. The final result is something that in my opinion should not be thought of as a "reproduction" but rather a modern reinterpretation of a classical theme. As you know we live in Italy; we have Bulgari, Gucci, Cartier and many other designer's jewelry stores in town, and I think your ring is just as beautiful as some of the best rings I have seen. The 1.5 cts Asscher Asha is very special: I really like the its "liquid silver" look. The Asscher cut is very sophisticated and although it doesn't sparkle as much as a round cut, it's hard not to notice it. The Asha is just beautiful." - excerpt from our customer's email.
Ring Shank Details:

10 natural diamonds, 5 on each side of the ring

10 x 1.7mm natural VS/G side round diamonds, total carat weight of .20ctw

Diamonds are '2 bead bright set', same exact style as done on the original ring.

Shank is round, not Euro, in keeping with the original ring.
Ring width: 2.65mm - this is a very thin, dainty ring, meant to emphasize the center stone.


Our reproduction is low set with an integrated
8 prong head.



Center Prong Details:

Prongs will be a low set, 8 prong head, with the same upper look as the original Cartier. Ours will be a lower set prong head though, in in order to ensure ease of wear.

The wedding band is straight and symmetrical, the engagement ring is designed to set flush with the engagement ring.

NOTE: Due to the changes over the years in our casting companies, we cannot guarantee an exact fit if you order a wedding band separately from the engagement ring. We highly recommend ordering them together if you want a matching set that fits together perfectly.


The graduated spacing between the
engagement ring and band to emphasize
the two rows of diamonds.

More Details:

Pricing does not include the center stone. If you wish for a completed, ready-to-wear ring to be sent to you, please purchase a stone with your order. We will automatically assemble the ring for you if your order includes both a center stone and ring purchase.

This ring is currently able to be set with either an Asscher cut (as shown in photos above) or with a Flanders cut (mounted with the prongs over the corners), or a Cushion cut.

When ordering it without a center stone, please note the mm and or carat size of the center stone stone you intend to use. We have heads ranging from 1ct - 3ct in size.

---
Update: This ring is offered only in palladium and platinum. We are no longer offering this ring in white gold as palladium has proven to be a superior option. We highly recommend the palladium, it is our metal of choice as it is a pure metal and member of the platinum family, naturally white, hypoallergenic, stronger than platinum, and yet at the price of white gold. (And it helps to realize that not many years ago, palladium was twice as expensive as platinum).