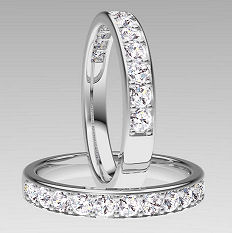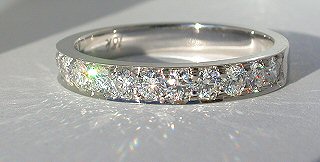 Photorealistic image and actual image of our matched wedding band for the 1895 Cartier reproduction.
Our matched wedding band for the 1895 Cartier reproduction ring features the same 'bead set' style used in the reproduction engagement ring, but with 12 total diamonds instead of 10. This ensures the diamonds start point on the sides matches the engagement ring, and adds even more sparkle. When worn with the matched engagement ring, this wedding set provides an amazing 1ctw of natural diamonds on your feature, creating a sparkling display that has to be seen to be believed (we're even considering setting up an online video just to show it!). The effect comes in part because the bead setting minimizes any metal showing, so the look of the band is that the whole top half of it is made almost entirely out of diamond.
This band features an understated air of sophistication, with its clean lines and elegant styling. This band sets flush with our 1895 Cartier reproduction ring, and features a comfort fit interior for ease of wear.
Due to customer request, we are also now offering these bands with alternating natural Ceylon blue sapphires as a color option. We use AA diamond cut, natural Ceylon blue sapphires to match our top grade natural VS quality diamonds - perfect for those who want to add color to their band.
Last but not least, this band is perfectly suitable for wearing by itself.