---
How to order (or obtain pricing for) your ready-to-wear Tiffany Cathedral ring:
1)Select your desired center stone from our loose Asha page, and add that to your shopping cart
Our loose Asha inventory is here. The Tiffany Cathedral can hold virtually any Asha.

2)Select your desired ring shank (specifying which metal and thickness) below, and add that to your cart.

3)Finally, select your desired prong head (the portion that holds the stone to the ring) from
our prong page. Our prong page is here.
At that point, you have a finished ring and can check pricing for your ring and make any adjustments.
When you are ready, simply check-out to complete your order.

We will automatically assemble the center stone, prong head and ring shank into a complete and ready to wear (or gift) ring!
---
Our Tiffany Cathedral Rings are available in 3mm and 4mm widths:
Comfort-fit bands
Die-struck for the ultimate in metal durability
New - now available in Palladium!
We highly recommend palladium over white gold for the ring shank as it is a platinum group metal, and
does not require rhodium plating (pure white naturally), and is also hypoallergenic.
You will still need to use a white gold prong head as palladium is only available for the ring shank.
Matching Wedding band for 3mm Palladium rings:
We are now also offering a matching, all-metal Tiffany die struck wedding band for our Palladium 3mm and 4mm engagement rings (pricing listed below).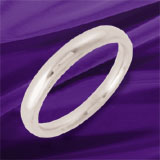 This band is comfort-fit, die struck and flush fit against the Tiffany Cathedral. Pricing is at a 10% discount, as it
assumes you already have or are ordering the Tiffany Cathedral to wear it with.

---
Online Shopping - Tiffany Cathedral Engagement ring