Past, Present, and Future in One Brilliant Ring

Now pre-stocked in the most popular sizes, and with optional pink or cultured Kashmir sapphire center!
Trellis 3 stone ring with 1ct center, 2 x .25ct sides
Metal shown is pure palladium.
Trellis 3 stone ring with 1.25ct center, 2 x .50ct sides
Metal is pure palladium. Best seller!
The three-stone anniversary ring has become the new expression of everlasting love. Designed to symbolize the past, present and future, our new Trellis 3 stone rings are sure to attract attention wherever you go, all the while showing the brilliance of your love for each other.

Based on customer feedback, we are offering our Trellis 3 stone rings in two sizes:

a)1.50ctw = 1ct Asha H&A center, with 2 x .25ct Asha H&A sides

b)2.25ctw = 1.25ct Asha H&A center, with 2 x .50ct Asha H&A sides

Update - One of our customers, TonyL on our message boards, recently made a short video of the 1.50ctw Trellis ring, which you can view below:

Here is the link to the message board discussion about this video.

Both rings use the same Trellis design, so named due to the sweeping interchange of the prongs crossing over on the sides.
| | |
| --- | --- |
| side view of our Trellis 3 stone ring | |
Additional ring details (common questions about this ring):
a) Ring width details (the ring shank tapers so a top and bottom measurement are included)

| | | |
| --- | --- | --- |
| Ring Version | Top of ring shank | Bottom of ring shank |
| 1.50ctw | 3.5mm | 2.5mm |
| 2.25ctw | 3.75mm | 3.25mm |
b) What is stamped inside the ring?

The ring is stamped with PD (for palladium) and US (for the mark of the caster).

c) What is the color and clarity of the stones used in this ring?
We use version 5, H&A Asha rounds with IF (Internally Flawless clarity). The stones are all F color, except for the .25cts used in the 1.50ctw ring, which are H color.
You can view more info our on the rounds used at our H&A rounds, loose Asha page here.
---
Online Shopping:
We are offering both rings in pure 950 palladium, which provides many of the same benefits as platinum (pure white, hypoallergenic, etc.) but at white gold pricing. Unlike white gold, palladium is naturally a pure white, and thus never needs rhodium plating and will not tint yellow over time. You can learn more about palladium here.
Update: Because of the continued demand for this ring, we have prestocked the following ring sizes and they thus normally ship 1 business day after receiving your order (or 2-3 business days to your door)!
| | |
| --- | --- |
| Version | Prestocked Sizes |
| 1.50ctw | 6, 6.5, 7 |
| 2.25ctw | 6, 6.5, 6.75, 7 |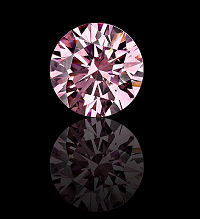 New option - pink center for the 1.50ctw 3 stone Trellis
Our pink Asha rounds have just been released, and we're pleased to offer our Trellis 3 stone rings featuring a pink round center, flanked by side white .25cts!
Metal
Asha details
Price
Pure Palladium
1.50ctw - Pink Center

(1ct pink Asha center, 2 x .25ct white sides)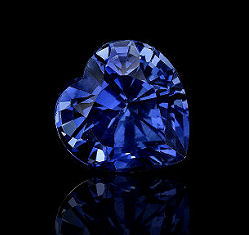 New option - cultured Kashmir Blue sapphire centers (round cut, photo is to show color)
for the 1.50ctw and 2.25ctw 3 stone Trellis
We're pleased to add our Cultured Kashmir blue sapphires to the options available for your center stone!